Hill to Harbour
Event Info
7 April 2024
Event Information
Date:
Sunday 7 April 2024
Start Times and Locations (note 30 min earlier than usual)
Hill to Harbour - 8.00am – at Bar Beach
'Halfa' Hill to Harbour - 9.00am – just west near western end of The Station (Old Railway Station) Wharf Rd
2K4Kids – 10.00am – near Pat Jordan Oval Carrington
Entry Fees
| | | | |
| --- | --- | --- | --- |
| Event | Early Bird: 1 Oct 2023- 11 Dec 2023 | Standard: 12 Dec 2023 - 19 March 2024 | Late: 20 March 2024 – 7 April 2024 |
| 12km Adult | $65 | $75 | $85 |
| 12km Child | $45 | $55 | $65 |
| 6km Adult | $50 | $60 | $70 |
| 6km Child | $35 | $45 | $55 |
| 2K4FUN | $20 | $30 | $40 |
What you get for your entry fee:
Apart from the opportunity to race in a professionally staged major event in Newcastle, you get the following goodies with your entry:
1.FINISHER medals!! for everyone who finishers. Distributed in the recovery area.
2.The opportunity to purchase a souvenir race singlet for just $15 for everyone entered by 24 March 2024
3.Race bib number
4.Electronic timing with live results. Note we use a reusable chip that you must return in the recovery area. This must be attached to your shoe.
5.You also get:
a. One of the most picturesque courses in Australia.
b. A major traffic control plan to allow use of main roads.
c. Medical services on site and mobile
d .The best MCee in the business.
e. Pre and post race communication.
f. Donations made to local Surf Life Saving, and other sport and social Clubs
g. Regular drink stations.
Race Kit Collection
Race Bibs, timing chips and singlets (if you purchased one) can be collected from:
Saturday
From 10am - 4pm - Newcastle Yacht Club off 95 Hannell St Wickham. All events.
Sunday
From 7am - Hill to Harbour 12km – until 30min at Cook Hill Surf Club on Memorial Drive , Bar Beach next to the start
From 8.00am - Halfa Hill to Harbour 6km - westen end of The Station (Old Railway Station) on Wharf Rd ( near Queens Wharf)
From 9.00am - 2K4Kids - Pat Jordan Oval off Tully St Carrington.
Please bring your phone for our QR code race kits collection.
Secure Bag
There will be a secure bag area at the Registration Tent on race day at all starts.
Prize Money and Awards
We will be awarding $3500 in prize money in the 12km to the 1st, 2nd and 3rd places in male and female overall category of the Hill to Harbour event. This will be done on gun time. These will be equally allocated to Female and Male Runners as per below
1st Place Overall - $1000
2nd Place Overall - $500
3rd Place Overall - $250
Entrants will automatically be assigned to their respective age categories when entering their date of birth during the entry process. Ages are as on race day. Age categories prizes are awarded medals in the following category: 12-13, 14-15, 16-17,18-29, 30-39, 40-49, 50-59, 60-69, 70-79, 80+. As you already receive a finisher medal we will no longer give a seperate age category medal, however will provide a 1st, 2nd or 3rd plague you can attached to your finishers medal.
The 2k4FUN is a participation event only and is not timed. They all get medals!!
ALL RUNNERS RECEIVE A FINISHER MEDAL ...IF YOU FINISH!
How to get there:
·Drive or walk to Start at Bar Beach start point:

·Bar Beach Car Park north of Beach access only until 7.30am!

·Drive to the FINISH in Carrington and we will have limited buses to take you to the start line. You must buy a ticket. If you missed this. A separate ticket can be purchased at the entry page.

·For Halfa A Hill to Harbour the start is near The Station (Old Railway Station) on Wharf Rd - We suggest using light rail in Newcastle. Just alight at Queens Wharf and walk across to the Harbour

·FINISH LINE - Carrington – Park south side of Cowper St
DO NOT PARK on the course.
Drink/Aid Stations
There are drink stations on each lap on start area, 2.3km, 4.5km, 7km, 9.5km. This will include electrolyte and water.
Toilets
These are located at the start and finish, Nobbys SLSC building at 5.0km and Honeysuckle at 8km
Volunteers
We have volunteers from Nobbys SLSC, Cooks Hill SLSC, Newcastle Rowing Club and various local Running and Social Clubs.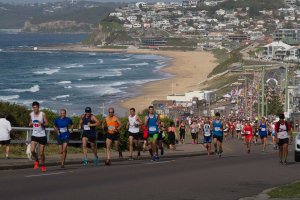 Share:
Event Races
Course Video
Updates